| | |
| --- | --- |
| Suurim Paintballi Üritus Lätis!!! | | Prindi | |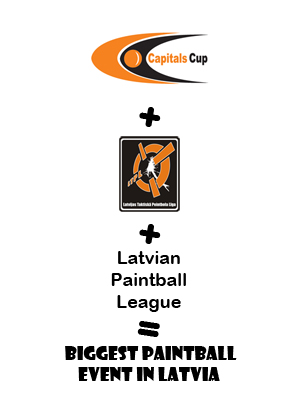 As a part of the Riga stage a series of international tournaments Capitals Cup 2009 will take place in parallel, two Latvian tournaments in a series of local tournaments Latvian Paintball League (LPL) and Latvian Tactical Paintball League (LTPL)
In connection with this event promises to be more massive, are planning more than 40 teams, as well as organizers chase purpose of familiarizing the players from tactical paintball with a sports league. Each tactical league team that will participate at Capitals Cup Riga in 3rd Division and Latvian Tactical Paintball League (LTPL), will receive free box of paint for the tournament Capitals Cup Riga. It's made possible by the sponsors, the company PB Parks and shops «Peintbols Tev".
Details of the organizers of the tournament, as well as on the forum and news on site www.paintballer.lv, www.paintball.ee or phone +372 55 562 526, audrius@paintball.ee