PSP Events, Inc is pleased to announce the changes made to our formats for the 2009 tournament season.
earlier announced changes in rules of PSP 2009:


* Players
**per point
*** PSP is currently working with gun manufacturers and our rules committee on the exact decimal rate of fire. More information will be available shortly at

www.pspevents.com

The idea behind lowering the rosters was based in trying to lower the overall cost of teams competing in the events. It was simple logic that was obviously flawed.

Simply stated, my assumption was that it has become apparent that teams don't need as many players as once thought to be competitive in our format. With the changes we are making to the format, it seemed to me that teams would need to carry fewer players.

My assumption was that with fewer players, teams would need fewer cars, fewer rooms, fewer flights, fewer everything. Obviously, there are lots of teams who do not function in the manner that I thought.

Lowering rosters does nothing positive for PSP. In fact, looking at it from a very simplistic point of view, it would have effectively taken a substantial amount of money out of our ID income. ID money is essential to our operation. But I thought it would be a help to teams and decided it was a worthy trade off.

Obviously, based on emails that I have received from many teams, this was a miscalculation on my part.


There are issues that teams and players take exception to. I have the position to make decisions that I feel are best for most players, most teams, most of the industry, and last but not least, the business of PSP.

Not all of my decisions will be greeted with open arms. There are situations in which I have far more information available to me than the teams and players have available to them. There are situations where the teams have more information available to them. The roster size, and how it relates to the teams finances is one of them.

I have no problem listening to the concerns and thoughts of the teams and players when it is obvious that they have the better information. This is a situation where I completely agree that the teams have far better information available to them than I do.

To the teams who took the time to send me an email telling me who they were, how much they play, how this decision would affect them, etc -- I sincerely appreciate the input. I do intend on making decisions that work out best with regard to the whole picture. Thanks for the input and advice.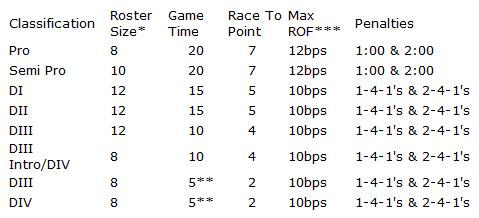 * Players

**per point

*** PSP is currently working with gun manufacturers and our rules committee on the exact decimal rate of fire. More information will be available shortly at

www.pspevents.com

We will return the roster limits for DI-DIII to 12 players. DIII Intro roster limits will remain at 8 players. I want to keep this division open to teams who are making the move from 5 man into our format.


These changes were brought about after many hours of discussion by our experienced owners group, our expert staff, industry leaders from outside of our group, and players from several respected teams.

The following changes are made with the intent to help teams compete in our tournament series despite the uncertain economic future faced by our industry and our society as a whole.

Our hope is that with these changes, teams and sponsors will recognize a significant savings in costs associated with competing at the highest level of tournament play, while not sacrificing the competitive integrity of our tournament series.

Expect a newly revised rule book to come in the middle of January. This rule book will be available for download at www.pspevents.com as soon as it is completed.

Best Regards,
Lane Wright
PSP Events, LLC
Chief Operations Officer